Foam Packaging Solutions
Master Pack provides three solutions for packaging.
Master Pack is an industrial packaging specialist focusing on new and existing product design in the electronic and related fields. Our experience and expertise has proven we are a manufacturer's answer to specialty packaging from prototype through production.
Master Pack's high-performance packaging foam is designed to protect your products during shipping, warehousing and general handling. Its' unique cushioning abilities allows you to package your product with a minimum of material.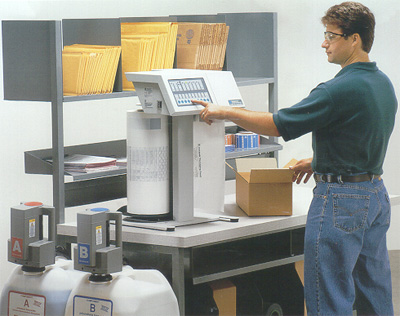 The foam-in-bag packaging system is perfect for small and mid-sized companies looking for the superior cushioning properties without a large up-front investment.
A Polyurethane Foam-in-Place System is a combination of an isocyanate and Polyol (resin), pre-formulated so they need to only be mixed and dispensed to make Polyurethane Foam. The Foam made from these systems is used primarily for roofing, insulation, flotation, and packaging.
Requires Minimal Space
The handy 15-gallon containers and compact system will fit almost anywhere.
Easy to Install
The all electric Instapak™ 900 system installs easily. No air compressors required.
Simple to Maintain
No scheduled maintenance required
Guarantees Foam Quality
Electric metering pumps and self-diagnostic controls guarantee top quality Instapak™ foam.
Safe to Use
The 900 system meets major international product safety standards.