Spray Foam Insulation Equipment for Sale

The following equipment is available through Master Pack.
Model PPFD/100 - Portable Foam Dispenser
"Low Cost, Low Pressure, High Output"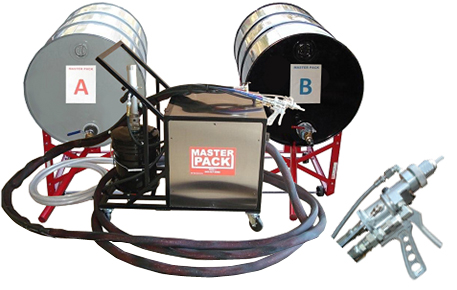 Portable Proportioner Foam Dispenser
(PPFD/TP) Low Pressure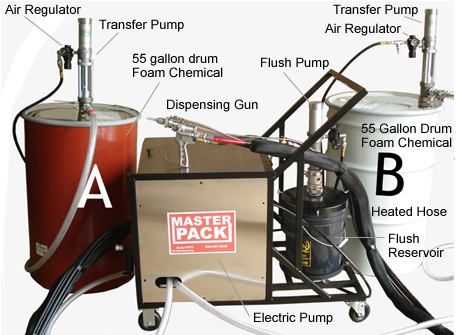 Features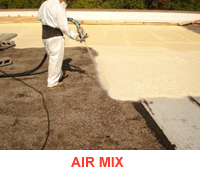 1. Electric Power Gear Pumps
2. 1:1 Ratio Proportioning
3. Electric Motor
4. Air Mix foam Dispensing
5. Easy To Clean & Maintain Dispenser
6. Foam Output 16-18 LBS per minute
7. Sprays Variety of Foam
- Open Cell
- Closed Cell
- Roofing Foam
8. Heated Hoses and 3000 Watt Heaters
9. Light Weight Dispenser
10. User Friendly



PPFD Operations Manual (download here)

POWER REQUIREMENTS:
220 Volt 40 AMP Circuit
Adaptable to 15kw Generator or Shore Power
Air Compressor 5HP / 12-18 CFM @ 100 PSI
MINI DISPENSING PROPORTIONER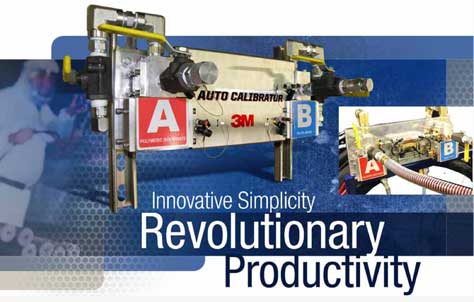 The spray foam insulation dispensing breakthrough that gives you incredible ease of use and unprecedented productivity. Quicker startups, quicker shutdowns. Itís that revolutionary.

No calibrating, no guesswork, no excuses!
Reliable, consistent ratio holding
No electricity
Low maintenance
Low startup cost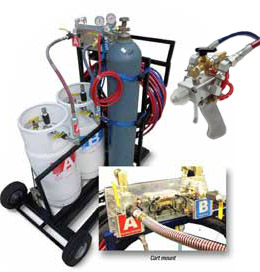 Insulation System
Low Pressure Spray Foam
Insulation System
Class I, 1.75 lb. density, closed cell foam
Cost effective refill system; no container disposal problems
Ideal for small and medium jobs
Complimentary addition to a big spray foam Trailer rig
Chemical ratio precisely controlled; no manual calibration needed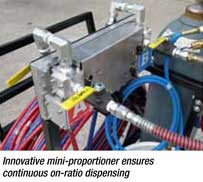 Model MARK 1
100 Feet Heated Hose

FEATURES:
Spray Gun: 1
Transfer Pump: 2
Material Ratio: 1:1 (mixed)
Power Source: 220v, 7000w, 50HZ single phase
Air Source: 7~11kg/cm2 0.9m3 /min
Purging: Automatic pneumatic, Solvent-free
Output: 8kg/min
Heating devise power for material: 2250wx2
Heating power for pipe heating: 2000w
Single Component output pressure: 75-90Kg/cm2
Heating Temperature: 50-60&degree;C (122-140°F)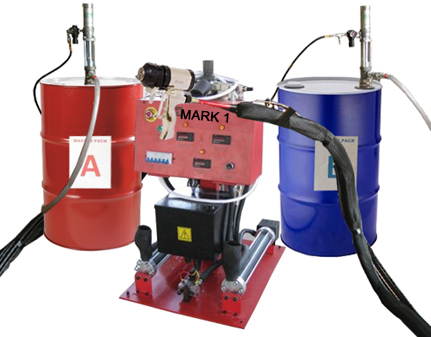 System 600
Master Pack 600 board foot Spray Foam kit is a completely self-contained 2-component foam system that is portable and disposable. Complete with color-coded hoses, ergonomic foam applicator, and all the necessary tools to get started, the system 600 provides 600 board feet of polyurethane spray foam. Designed for larger insulating, sealing, patching and filling applications, the System 600 provides a quick, consistent flow of foam with rapid curing, expands 30X, dries tack-free in seconds and is fully cured in one hour.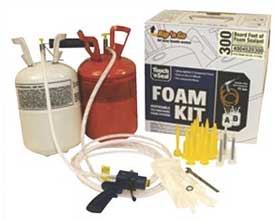 High R-Value = 5.48 per inch
Closed Cell Structure
No Ozone Depleting Chemicals
Easy to Transport
Two Cylinders (Components A & B)
Anti-Crossover Foam Applicator with 15í hoses
Extra Nozzles (5 conical, 5 fan)
Includes: Chemical Resistant Gloves, Assembly Wrench, O-Ring, Petroleum Jelly