Spray Foam Insulation

Spray polyurethane closed cell foam has an R-Value of approximately 7.0 per one inch thickness and our open cell foam has an R-Value of approximately 3.8 per one inch thickness (depending upon application). Our foam provides more thermal resistance with less material than any other type of commercial insulation. See more about Closed Cell Foam Insulation & Open Cell Foam Insulation.
BENEFITS OF SPRAY FOAM INSULATION
Saves energy cost - 40% energy savings
Stops air and moisture infiltration
Adds strength to building structure
Keeps dust and pollen out
Spray Foam Board Foot Calculator
* Foam Applied Surface Area
| Estimated Square Feet | Estimated Inches Needed | Estimated Board Feet |
| --- | --- | --- |
| | | Result Here |
Spray foam insulation is a two part polyurethane system designed to provide greater R-Value. The benefit to the consumer, is that it saves energy cost and adds strength to the product.
SMALL SPRAY FOAM APPLICATIONS UNDER 5000 BOARD FEET
Self Contained Portable Spray Foam System
Thermal leaks are of vital concern in a cold storage building. Great care and detail go into proper sealing of the cold storage envelope, and maintaining that seal.
Few products are more easily utilized, or more effective in maintaining the thermal integrity of a cold storage structure than sprayed-in-place polyurethane foam.
Two-component Foam Kits are designed for use in commercial sealing, insulating, patching, and filling applications. The dispensing systems provide quick, consistent foam flow and fast cure time. Foam Kits are available in fire retardant, high density, low density or standard formulas. Extra nozzles and guns are also available.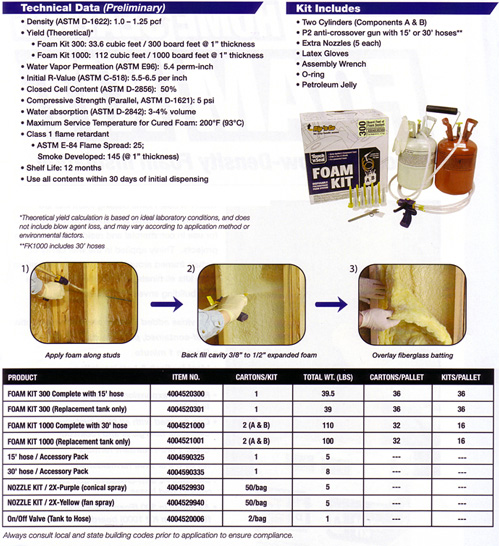 NO-WARP FOAM
Polyurethane Foam Sealant

TECHNICAL DATA
Density: 1.3-1.8 lbs./cu.ft.
Thermal Resistance: (ASTM C-518) R-Valve 4.5 per inch thickness
Maximum Service Temperature of Cured Foam: 240&degree;F (116&degree;C)
Shelf Life: 18 months
No CFC's, No HCFC's
Contains no urea formaldehyde
Safe for wood, aluminum, vinyl and window/door installs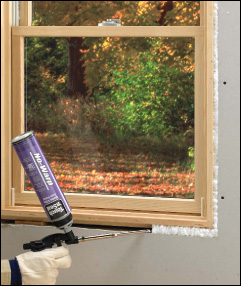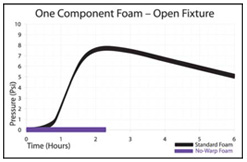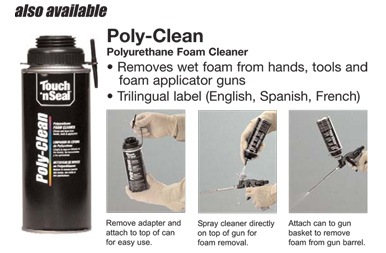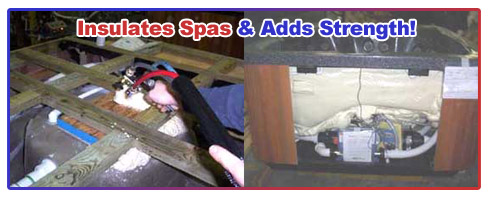 Polyurethane foam is used in numerous marine applications. Foam has superb buoyancy properties and adhesive properties. Polyurethane foam can be poured or sprayed. It can be applied to leaky, cracked hulls or decks.
Foam can be applied with our portable disposable Foam System or one may purchase foam in five gallon pails and "hand mix" with a 1:1 ratio.
Toubleshooting for 2 Component Foam
Checking the Gun for Proper Function
Unequal Chemical Flow from the Tanks
Foam Seems to Rise, Then "Melts"
Inadequate Flow from Both Tanks
Temperature Issues
Foam Cures Soft
Foam Is Very White, Instead of Yellow
Foam Cures with a "Crunchy" Texture
Foam is Very Dark in Color
Only One Chemical is Dispensing
Chemical Clean-Up

CLOSED CELL SPRAY FOAM VS OPEN CELL SPRAY FOAM
CLOSED CELL SPRAY FOAM


Closed Cell SPF reduces energy use in building beyond it stated R-Value (R-Value of 7/inch)

One set (1 drum A & 1 drum B) of chemical yields 5000 board feet of foam
Provided a continuous barrier
PREVENTS moisture infiltration through air leakage
Minimizes dew point problems & condensation
Avoids thermal bridging
Resists heat movement in all directions
Helps reduce exterior noise
Creates a barrier against gas & odor
Retards insects & rodent penetration
Adds structural integrity to the house
Meets Class 1 requirements

OPEN CELL SPARY FOAM


Half pound Open Cell SPF reduces energy use in buildings beyond its stated R-Value (R-Value of 3.8-4/inch)

On set (1 drum A & 1 drum B) of chemical yields 16,000 board feet of foam
Provides a continuous barrier
DOES NOT prevent total moisture infiltration
Prevents air leakage
Minimizes dew point problems & condensation
Avoids thermal bridging
Resists heat movement in all directions
Helps reduce and absorbs exterior noise
Excellent sound abatement
Creates a barrier against gas & odor
Retards insects & rodent penetration
Adds limited structural integrity
Reduces or eliminates currents within walls
Meets Class 1 requirements