Spray Foam Insulation Equipment for Rent / Purchase
($2,895.00/month With Option to Purchase + Foam Cost + Training on Site)
SAVING UP TO 50% VS HIRING A CONTRACTOR
For 20,000 board feet (12x12x1" thick) and above
BEST APPLICATION ARE COMMERCIAL & LARGE HOMES. AREAS OF 4,000 SQUARE FEET AND ABOVE
MASTER PACK is pleased to announce a rental program for Spray Foam Insulation Dispensing Equipment to SPRAY POLYURETHANE FOAM for Insulation / Void Fill and Sound Proofing Applications. This program eliminates the need to purchase expensive equipment or hire a spray foam contractor.

For application LESS than 20,000 board feet (Closed Cell Foam) we offer Model 1000 (yield 1000 sq ft) DIY Disposable Foam Kits.
Model PPFD-TP and PPFD (Portable Proportioner Foam Dispenser)
Available for Purchase or "U-Spray" RENTAL PROGRAM
LOW COST
SPRAY FOAM INSULATION DISPENSING SYSTEM
NEW REVOLUTIONARY "AIR MIX"
HIGH OUTPUT Foam Dispensing System
Model PPFD-TP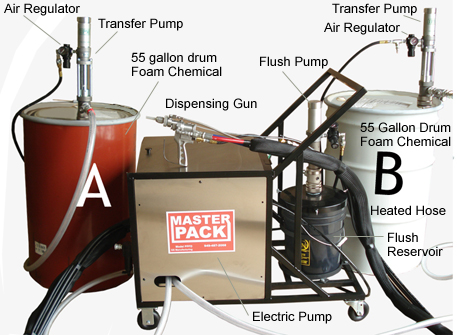 Model PPFD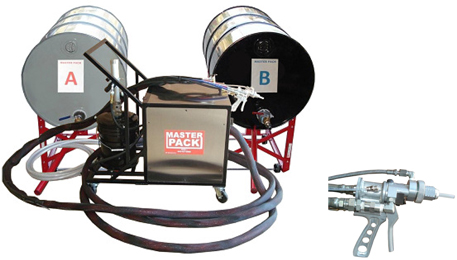 PPFD Operations Manual (download here)
Advantages of Rental Program "U-SPRAY" vs Purchasing Equipment vs Hired Contractor
1. Cost per board foot is 30% to 40% less expensive than conventional programs
2. There is NO CAPITAL EQUIPMENT EXPENSE
3. MASTER PACK visits & trains foam operator on site
4. Time Flexibility in Rental Program (rent monthly)
5. MASTER PACK supplies all accessories (safety items for spray application)
6. Material Cost generally is between $0.20 for Open Cell Foam (16,000 bd ft) & $0.60 - $0.70 for Closed Cell Foam (5,000 bd ft) per board foot depending upon the amount of board feet required and foam density
7. We sell Class 1 Fire Retardant Foam that meets all building code specifications "HIGHEST QUALITY FOAM"
* Please NOTE: MASTER PACK's rental program is more tailored for those who will spray 20,000 board feet and above.