Floral foam is the foam that holds plants and flowers in place in its holder. The holders can range from a window box, a wooden planter, small or large vases, or a slew of other decorative options.
One modern day floral foam that is taking the world by storm is liquid floral foam. Gone are the days of old and stuffy dry foam that crumbles and breaks easily; never fitting properly after cutting to size, having to be fixed constantly, and not giving plants or flowers any justice at all.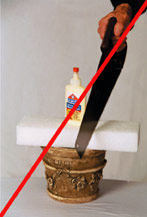 Liquid floral foam is mixed by a machine or by hand and consists of a polyurethane two part mix. Once mixed, just pour it into a container of your choice. Once it is poured it meets your container size head on to seamlessly blend in. As added benefits, floral foam also has a very low order and sets very fast, so now your trees and flowers will be secured quickly without having to fumble with glue or cutting tools.
Depending on your floral foam needs, Master Pack offers floral foam for purchase in the following sizes:
• 1 gal. containers
• 5 gal. containers
• 55 gal. drums
The Master Pack floral process is fast, easy and versatile. Contact us today to get started.