E84 Class 1(A)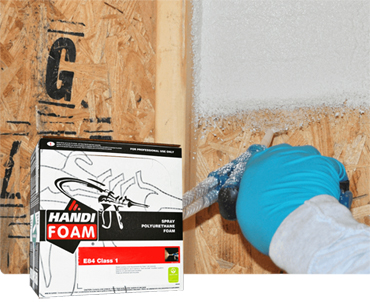 E84 Class 1(A) low pressure spray polyurethane foam is a two-component system designed to fill and insulate large voids and surfaces. Handi-Foam E84's excellent adhesion properties create a continuous air barrier. This quality completes the building envelope, resulting in improved indoor air quality and lower heating and cooling costs. Handi-Foam E84 is a Class 1(A) fire rated foam that meets various building code requirements for insulation.
Properly applied Handi-Foam E84 reduces energy consumption, leading many homes or buildings to be certified in their respective energy designation. Handi-Foam E84 is also UL GREENGUARD™ Gold Certified.
Handi-Foam E84 is available in a variety of disposable and refillable sizes and is dispensed using the patented Handi-Gun® Dispensing Unit.
| | |
| --- | --- |
| Tech Data & Resources | Links & Downloads |
Common Product Uses
RESIDENTIAL
Sealing insulation board joints
Foundation insulation
Mobile home skirting sealing and insulating
Insulating crawlspace wall
Insulating and sealing rim joists
Sealing ductwork joints
Residential wall insulation
Thin coat of spray foam to seal and insulate for "flash and batt"
Sealing can lights
Air sealing attic
Sealing attic baffles
Post mold remediation sealing (prevent future mold)
COMMERCIAL & INDUSTRIAL
Thermal break on cinder block wall
Insulating metal buildings
Sealing the roof/wall juncture
Asbestos abatement and encapsulation
Sealing silos and storage bins
Cold storage insulation
Insulating storage tanks (gas, industrial, winery, etc.)
Temporary roof "night seal"
Sealing retrofitted windows in historical buildings
Insulating irregular shaped industrial piping
OEM
Manufactured housing insulation
Refrigerated trailer insulating (new & repair)
Truck cab insulating and stabilization
Air handler insulation
Foam shape creation
Trailer insulation
Recreation vehicle insulation
Temporary emergency structure insulation
Vehicle door insulation and vibration control
OTHER PRODUCT USES
Theater set design
Statue repair
Statue creation
Smoke house sealing
Swimming pool construction
Repairing and sealing damaged cargo containers
Insulating and sealing military tents
Filling post/pole holes in replace of cement