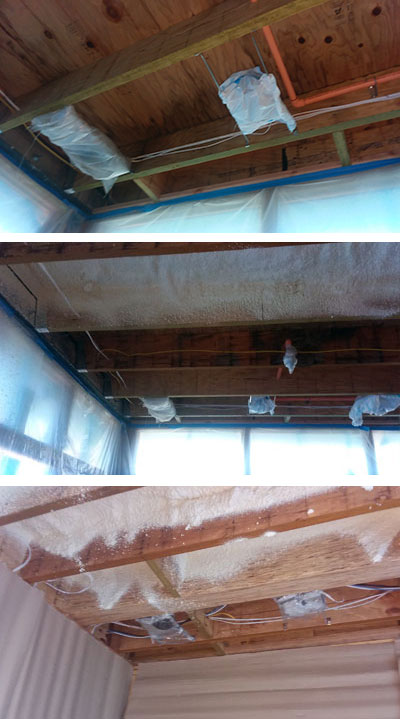 Master Pack installed a Model 776 spray foam unit to a licensed contractor that applied spray foam to the interior of a home.
The Model 776 was rented from Master Pack for a 30 day period to apply foam to the interior of the 5,000 sq.ft. home.  The Model 776 is a foam dispenser with refillable Pressure vessels of polyurethane spray foam product.
Master Pack ships the dispensing equipment via UPS for a 30 day rental period. Moreover, Master Pack supplies the Spray Foam Pressure vessels to the on site product location.  The first task was to apply insulating foam to the ceiling of a home which contained 6 inch joists & "canned lighting". A joist is a length of timber supporting part of the structure of a building typically arranged in parallel series to support a floor or ceiling.
The first step was to protect the "canned lighting" from the application of foam. The contractor wrapped the "canned lighting" in plastic and then applied the foam around the lighting. After the proper amount of foam was applied, the" plastic wrap" that was protecting the lighting was removed and then made ready for the subsequent processes of installation. There was a 3 inch gap between the foam and the "canned lighting".
Moreover, the spray foam was applied to the walls and other areas of the home. The novel part of the Master Pack program is that the applicator can rent the equipment for 30 days and then return it when the insulation project is completed. If customer wishes to rent the equipment for a longer period of time, Master Pack allows such exceptions as they are presented.
For more information regarding our spray foam products and rental program, please do not hesitate to contact us.