Foam Insulation Protects Orion's Fuel Tanks
Happy New Year! The month of December was a very exciting time in the spray foam insulation industry. Last month NASA launched their new space craft, Orion, using polyurethane foam on the liquid fuel tanks.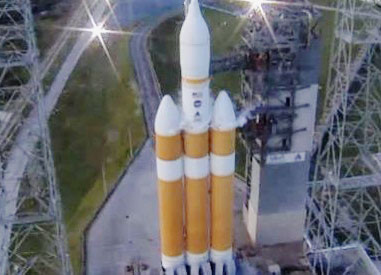 This particular foam insulation was unique because it had been specially formulated for high temperatures and extreme pressure. The foam is specifically designed to prevent condensation and the formation of ice on the liquid tanks.
Both NASA and NCFI, the manufacture of foam used on Orion, reported that the foam performed ideally. The unmanned space craft traveled at speeds of 20,000 mph and withstood temperatures up to 4,000 degrees Fahrenheit. This Orion launch was a major accomplishment for NASA and spray foam because future missions will include man missions to the Moon, asteroids, and Mars.
Future advancements
Spray foam has continued to grow in popularity over the years as more people are discovering its powerful insulation properties. Whether customers have large or small projects, spray foam continues to provide effective insulation solutions. It will be interesting to see what other new achievements polyurethane spray foam will accomplish during the 2015 year. As always, if you have any questions regarding your spray foam project please contact us. Master Pack is happy to assist you with your insulation needs.