1. Insulate your home

Spray Foam is the ideal method for insulating residential and commercial buildings. Spray foam stops air and moisture intrusion, cuts energy bills, strengthens the structure, and protects the internal air from mold, airborne pollutants, and allergens, thereby creating healthy buildings.
2. Custom Packaging

Foam packaging is one of the most secure methods for custom packaging to protect your products for shipping. The foam instantly molds to the shape of your product and expands to fill the void space. See More >>
3. Void Fill
Spray foam insulation is a great resource to help fill void space. The following video shows a contractor using spray foam to create an insulated backing behind a commercial refrigerator.
4. Roofing and Waterproofing

Spray foam is a great option in the roofing industry for insulation and waterproofing. The picture above shows a perfect seal of one of our customer's cracked roof. The customer was able to reduce his electric (air conditioning) bill to approximately 50%.
5. Sealing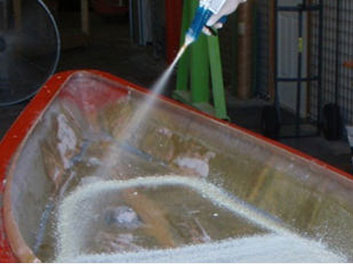 Spray foam allows you to seal and fill any cavities reducing unwanted noise and vibrations.