Spray Foam Insulation Special
Master Pack is happy to announce a summer special of our reconditioned PPFD/100 spray foam unit. This machine is perfect for the use of open cell, closed cell and roofing insulation foam. Summer is a great time to finish up any insulation projects before the winter months.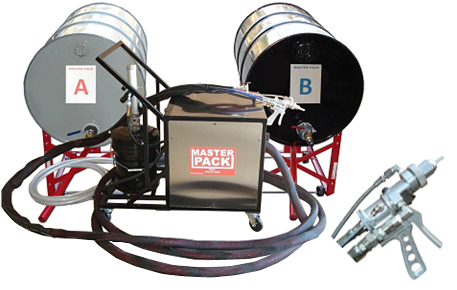 Spray Foam Specifications
Our foam system is made in the USA. It consists of one dispensing gun with Air & solvent purge, 100 feet of hose, Pre Heaters, 1:1 gear pump, and 2 transfer pumps. This system can be used in Pour and spray applications. It dispenses about 12- 14/lbs per minute.
Spray Foam Roofing Application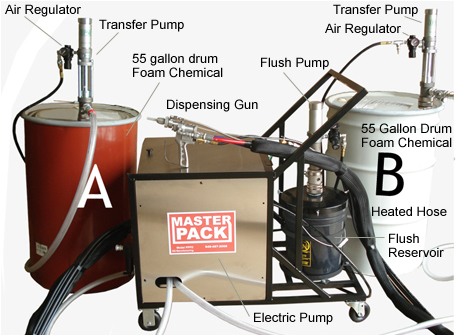 This particular unit has sprayed many roofs over 40,000 square feet. We offer one year warranty for all materials. Customers can be trained in our factory or we can install the product on site for your project.
The power requirements consist of 220-240 volt (15 kw Generator) and a Air compressor 16 -18 CFM. The cost of the reconditioned unit is $12,750.00. This system is equivalent to a E- 20 Spray Foam System in specifications. If you have any questions regarding the model PPFD, please contact us.