Master Pack is one of the leaders in Spray Foam rental equipment.   We offer spray foam insulation systems for 30 days and on-site training for two days.  We provided all the dispensing equipment, foam chemical, safety equipment for an easy transition to application.
Our rental program has saved customers over $7,000 by spraying his own building versus hiring a contractor.   Also, our program afforded the customer the opportunity to apply the foam in areas that were discovered while spraying the foam at no additional cost.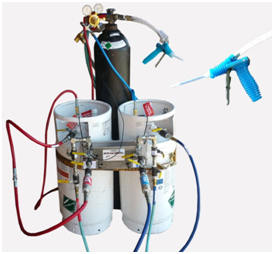 Master Pack has just completed the shipment of our Model 776 Spray Foam Insulation System to an energy facility in the mountains of California.
After receiving our spray foam equipment, our customer was instructed on how to spray a Quonset Hut warehouse measuring around 12,000 board feet.   Master Pack supplied our Model 776 with heater blankets, Ratio Calibrator (1:1 pump) Nitrogen Regulators, 100 feet of heated hose and a plastic dispenser gun.
Moreover, Master Pack provided a two day on site training period for the employees of the energy company.   Our instructor assembled the dispensing system and then demonstrated the use and techniques of the foam system.
What was unusual about the application was that the foam was applied to a corrugated metal substrate where the outside temperature rested around 20 degrees Fahrenheit.   Foam application proceeded very well and the job was completed in 3 days from the time of the training.