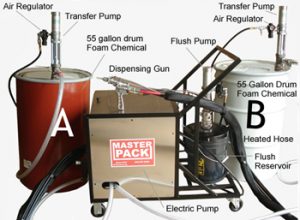 Recently, Master Pack rented the Model PPFD / 100 Spray Foam Dispenser for a small roofing application. Our customer had a 3400 SQFT "Cap Sheet" roof that they wanted to apply 2″ of foam for insulation and waterproofing.
Master Pack provided the foam dispenser, insulation foam chemical and coating to cover and protect the foam. Our onsite training was also available for spray foam technique in application and maintenance of equipment.
Our customer's primary purpose for choosing spray foam was for insulation with a secondary purpose of waterproofing. The building required air conditioning for at least 10-12 hours per day prior to the installation of spray foam. With the application of foam to insulate the roof of the building the customer was able to reduce his electric (air conditioning) bill to approximately 50% and reduce the time to activate the air conditioning.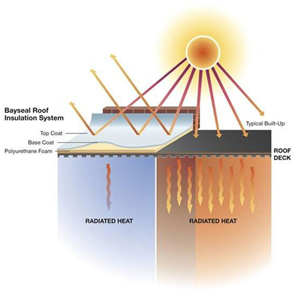 Our Customer was able to apply the roofing foam in one day.   They sprayed 6600 board feet or 2,000 LBS of chemical in an eight hour period.  The cost saving for the customer on installing foam and coating was in the neighborhood of $10,000.
For more information regarding our spray foam products and rental program, please do not hesitate to contact us.