Over the past couple of months we have discussed some of the many energy savings and moisture barrier properties of spray foam insulation. With fall around the corner, we thought it would be a good time to revisit adding spray foam insulation to your future roofing projects.
Monolithic Seal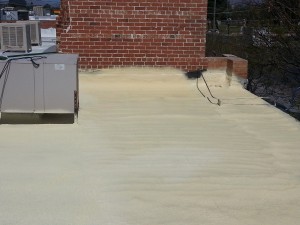 One of the great advantages to spray roofing foam, over other types of products, is its ability to create an air-tight, leak free seal. Spray foam insulation provides a strong air barrier when applied to surfaces and eliminates air permeation by filling and sealing any openings or voids within the designated spray area. This is a huge advantage to home and business owners experiencing leaks during the fall and winter seasons.
Increase Structure Integrity
Another key advantage of spray foam insulation is its ability to add structural integrity to the building. Roofing foam is a high 3 pound density foam, with a closed cell structure, that adheres to many different types of substrates. Once foam is applied to the area of a roof, it quickly begins to harden and form a solid barrier. This eliminates chance of moisture to accumulate within the roof. In addition, closed cell roofing foam does not shrink or change over time once applied.
Strong Weather Resistance.
Due to spray foams strong adhesion properties, roofs with spray foam are highly weather resistant and structurally enhanced. Once applied, spray foam roofs have a high wind uplift resistance. After the spray foam application of the roof is complete, an elastomeric acrylic/silicone coating is applied over the foam creating a strong and durable surface.
Please feel free to reach out with any questions regarding your next spray foam application. Master Pack is dedicated to ensuring quality customer service with all our spray foam products.